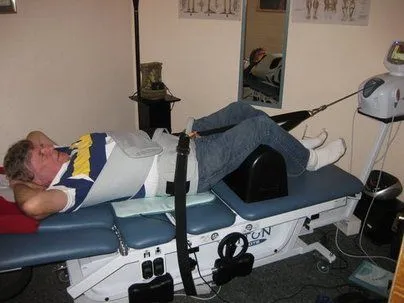 Non-Surgical Spinal Decompression!

Here at Geiger Chiropractic, we have always tried to make it economically feasible for our patients to get the care they want and need. A couple of years ago we had heard about this wonderful new treatment and referred two patients out for decompression at other doctor's offices. Occasionally a patient's condition is so severe they do not respond to traditional chiropractic treatment, and in a last ditch effort to save these people from potentially dangerous back surgery, we referred them out for decompression. Both paid out of their pockets, one paid $7000 and the other $10,000 for the series of treatments which were successful at alleviating their pain. They were both very happy with their treatment and the new health and vitality they acheived. We considered that we should have this technology available to our patients, and that we could certainly provide it at a much more reasonable cost! We have been able to provide this service now since 2009 for less than half of what our patient's had to pay in the past. And indeed, we have had a very high success rate with patients who were actually scheduled for surgery being able to cancel due to their great results.
You don't have to live in debilitating pain. Whether you have lower back pain, severe leg pain, sciatica, neck pain, or radiating arm pain, you could be a candidate for non-surgical spinal decompression. Patients with symptoms related to damaged or degenerative discs, spinal stenosis or failed back surgery often report their pain is unaffected by even heavy pain medications. Many who have suffered sleepless nights, unrelenting and disabling back and extremity pain have found a dream come true in non-surgical spinal decompression. The treatment is gentle and comfortable, some patients even fall asleep during treatment.

The gentle distractive forces of the DTS therapy create a decompression of the spine with unloading of the pressure on the discs and joints. This allows improvement of alignment, reduction in reactive muscle spasm and nerve root pressure with improved blood flow and nutrient exchange to the injured area. You'll experience several cycles of stretch and relaxation, which graduates to a peak over a period of several minutes. Therapy sessions typically last less than 20 minutes and standard protocol for best results is 20 visits, utilizing the traction table 3-4 times per week. Additional care in the way of adjustments, therapy and exercise are also important to achieve optimum results. Most patients are released from treatment after 8 weeks with elimination or significant reduction of back and leg or neck and arm pain.

The goal is to not only help heal the disc, but to also enhance muscular control and support of the back and neck, so regular home exercise and periodic visits to our office will help in maintaining your spinal health and reduce the probability of reoccurrence. Patients who began care with extreme degenerative change in their spine will sometimes return for traction once per month or once every other month to maintain their good results. Clinical results have shown a very high percentage of positive outcomes. A study from The Journal of Neurological Research, Volume 20 (Gose, Naguszewski & Naguszewski, authors) indicated positive reponse in 92% of their test subjects with 5% experiencing 25 to 50% improvement, 17% experiencing 50 to 75% improvement and 70% experiencing 75 to 100% improvement. These numbers mean that the dream of pain relief became a reality for the majority of the patients in that well controlled study.